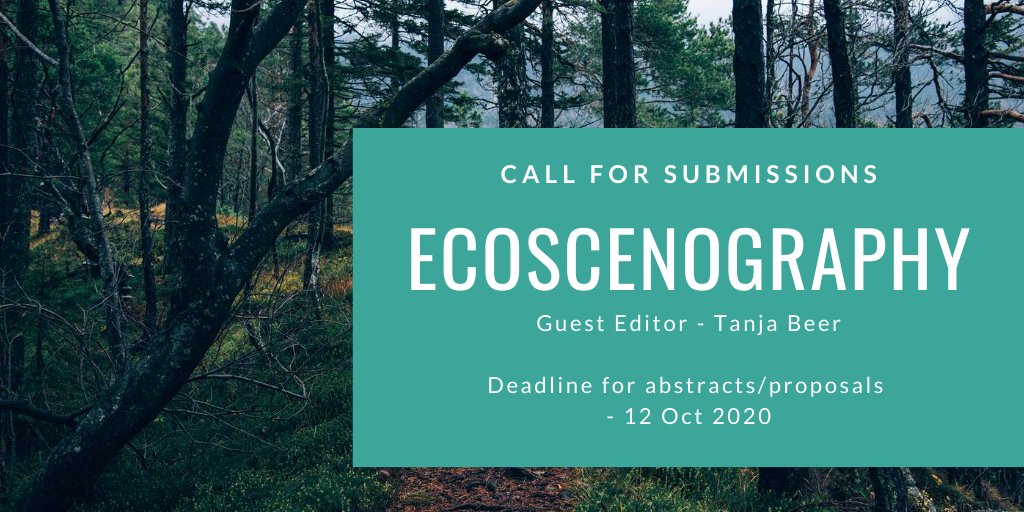 I am excited to announce a call for papers for a special issue of the journal, Theatre and Performance Design, Autumn 2021, on Ecoscenography!
A global ecological awakening is underway; one that calls for a new philosophy for theatre production that promotes more environmentally conscious, holistic, interconnected and symbiotic ways of making. With a global pandemic enforcing a pause in our practices and changing our ways of communicating and collaborating, we are at a unique moment in time that provides an opportunity to rethink the way we produce theatre now and into the future. How can we seize the potential that this new era of uncertainty and environmental focus demands?
This special edition of Theatre and Performance Design will examine the emerging practice of sustainability and ecological thinking in scenography. Related industries, such as architecture, product design and fashion have already shown us how a sustainable ethic can create novel processes and aesthetics. However, we are yet to fully grasp what a socially and environmentally conscious approach entails for the performing arts. 'Ecoscenography' is an expansive term that includes theories and practices that bring an increased awareness of broader ecologies and global issues to performance design. In this special issue, we are interested in how sustainability is being embraced in performance platforms across the world. How is ecological thinking evoking new materials and processes for theatrical design? How are practitioners and scholars critiquing and enhancing the social and environmental advocacy of our field? And what new aesthetics are being revealed? Beyond the necessity of energy and waste reduction, this special issue is interested in what an ecological approach to scenography does – how it influences our ways of thinking, and working – as well as how it might be defined within and beyond the performing arts. It calls for a new preoccupation with the agentic capacities of the field not only in terms of the 'worlds' that we create for audiences but also the ecological, social and political consequences, impacts and messaging behind our work.
Submissions are invited on, but not limited to, the following topics:
• Sustainability in theatre production, set, costume, lighting, sound and projection
• Theatre design and the circular economy
• Sustainability in theatre design education
• Sustainability in a digital performance culture
• Performance and Ecology
• Environmental advocacy and performance design
• Climate change activism and urban scenography
• Ecomaterialism and material ecologies
• Ecological approaches in expanded scenography
• Ecological approaches in theatre architecture.
The editors also welcome interviews with designers and architects as well as visual essays. In the first instance proposals should take the form of a 300 word abstract to be submitted to editorial associate Nick Tatchell at tpdjournal@arts.ac.uk by 12th October with accepted articles due in full by 12th May 2021. Articles usually range between 6000-8000 words.